Fort Riley is giving affordable housing to members of Kickapoo Tribe
By WIBW, Topeka, Channel 13 (click here for video)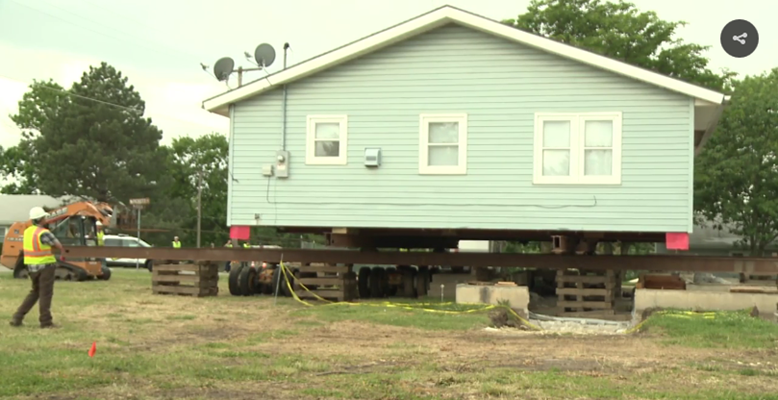 Military leaders at the post signed over ten homes to tribal leaders Tuesday. The first was moved off site, and will be transported to the Kickapoo reservation. It's part of 'Operation Walking Shield,' which provides housing for Native Americans.
Operation Walking Shield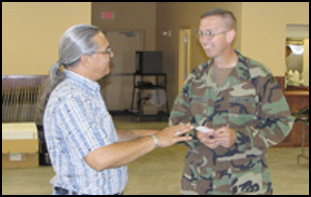 Since 1994, Walking Shield has participated in a unique civil-military collaborative program. Walking Shield assists with the integration of combined civil-military activities through the Department of Defense's Innovative Readiness Training (IRT) program. The IRT program utilizes military expertise to address the inadequate healthcare, infrastructure, and housing on American Indian reservations. IRT projects enhance unit training and readiness, while filling a community need that is not otherwise being met. Through IRT, Walking Shield brings military reserve units to reservations to assist with healthcare and infrastructure support.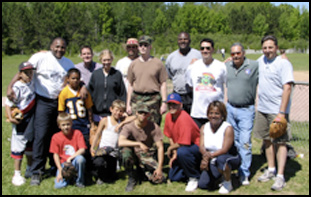 Operation Walking Shield Overview
California IRT Overview
Tribal President Interview

Medical / Dental Support Program
Hundreds of Army, Air Force and National Guard doctors, dentists, and nurses are deployed annually in support of Walking Shield's Medical/Dental Support Program. The military has provided more than 100,000 American Indians with invaluable services and expertise such as the following: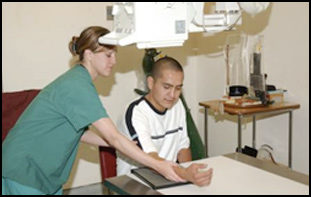 Minor surgery

Immunizations

X-rays

Health Education

Physical Therapy

Podiatry

Pharmacy

Nutritional Services

Mental Health Services

Medical Recordkeeping

Oral Health Education

Extractions

Bonding

Cleanings

Fillings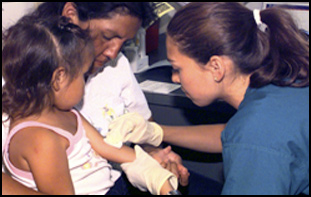 If you are interested in learning more about the Medical/Dental Support program, please contact: Marvin Thurman, Program Manager.

Rosebud Healthcare Support
Turtle Mountain Healthcare Support
Fort Belknap Healthcare Support
Ifrastructure Support Program
Infrastructure IRT projects have developed over 900 miles of roads, drilled dozens of water wells, and installed several miles of new sewer and water lines to improve existing infrastructure conditions on Indian reservations.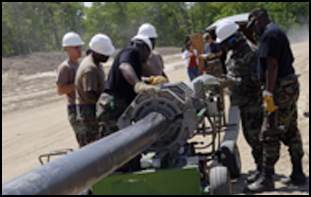 Joint U.S. military construction task forces consisting of Army Combat Engineers, Navy Seabees, Air Force Civil Engineers, and National Guard Units have combined their talents to build entire new communities on some of our nation's reservations.
Support for these projects involves the U.S. Department of Housing and Urban Development (housing support) the Department of Agriculture (rural utilities), the Bureau of Indian Affairs (roads), and the Indian Health Service (water and sewer hook-ups). Support often also involves the Army, the Navy, the National Guard and the Air Force, all collaborating in partnership with Walking Shield and tribal leaders.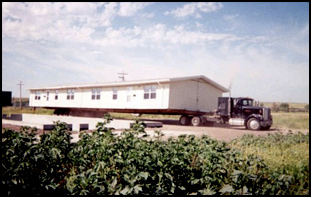 Past Infrastructure projects have included:
Masonry

New Home Construction

Pre-Engineered Buildings

Roadways

Earthwork

Well Drilling

Steelwork

Engineering Surveys

Environmental Assessments

Concrete

Roofing

Heavy Timber Construction

Plumbing and Pipeline Installation

Sewer

Lighting

Limited Power

Light Frame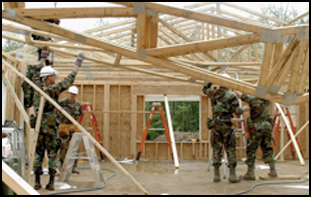 To date, the IRT partnership with Walking Shield has coordinated over a hundred projects on reservations. Contact Marvin Thurman if you would like further information regarding the Infrastructure Support Program.

Redlake Waterline Installation
Redlake House Construction
Housing Relocation Program
Unfortunately, in the United States, far too many American Indians reside in subpar housing plagued with overcrowding or even unsanitary conditions. In 1996, to address this great need, a partnership and subsequent legislation was created between the U.S. Air Force and Walking Shield to allow the transfer of excess military homes to federally recognized Indian Tribes in four states: Montana, North Dakota, South Dakota and Minnesota.
In 2010 our legislation was amended to allow Walking Shield to transfer homes from Air Force military bases in Oregon, Nevada and Idaho to tribes in those respective states. Thus far 1,125 homes have been transferred to 14 tribes. In 2015 our legislation has been re-amended to allow Walking Shield to transfer excess military homes from all military installations (Air Force, Army, Navy and National Guard) in all 50 states to tribes across the nation.