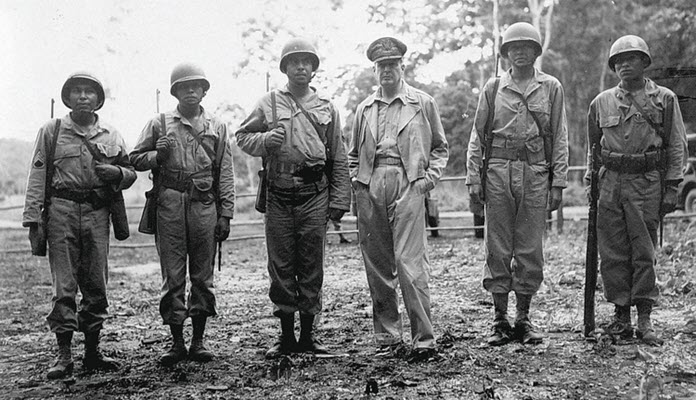 By OSU Communications – STWNewspress.com – Photo courtesy of U.S. Army Signal Corps.
Photo: General Douglas MacArthur, commander-in-chief of the Allied forces in the South Pacific, on an inspection trip of American battle fronts, late 1943. From left: Staff Sergeant Virgil Brown (Pima), First Sergeant Virgil F. Howell (Pawnee), Staff Sergeant Alvin J. Vilcan (Chitimacha), General MacArthur, Sergeant Byron L. Tsingine (Diné [Navajo]), Sergeant Larry Dekin (Diné [Navajo]).
Native Americans have served in every major U.S. military encounter, from the Revolutionary War to today's conflicts in the Middle East, in higher numbers per capita than any other ethnic group. A 16-panel Smithsonian Institution exhibition titled "Patriot Nations: Native Americans in Our Nation's Armed Forces" reveals the remarkable 250-year history of their U.S. military contributions through art, photography and essay. See the exhibit from through March 19 in the south lobby of the Edmon Low Library at Oklahoma State University.