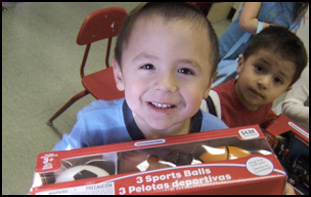 Holiday Gift Program
Walking Shield's Holiday Gift Program began in 1986 on the Pine Ridge Indian Reservation in South Dakota where many children received no other gifts during the holidays except for the ones provided by Walking Shield.
Currently, Walking Shield distributes over 40,000 brand new toys and other items for American Indian children that live in poverty-stricken communities each holiday season.
Throughout the year, Walking Shield collects new, unwrapped gifts for children and teens of all ages. Corporations such as Hasbro, Inc., Mattel, Russ Berrie, and humanitarian organizations like Marine Native American Toys for Tots, Kids in Distressed Situations and World Vision have assisted in donating toys, new clothes and other holiday gift items.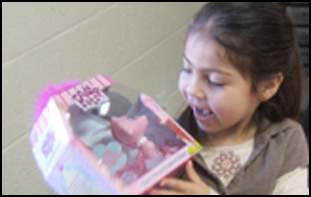 Individuals, schools, civic organizations and other volunteers join us each year in our efforts to bring the holiday spirit to children most in need.
Christmas Cheer With The National Guard
Smiles For The Holiday